Amazon tries to take over pirate sites that sold DVD copies of Rings of Power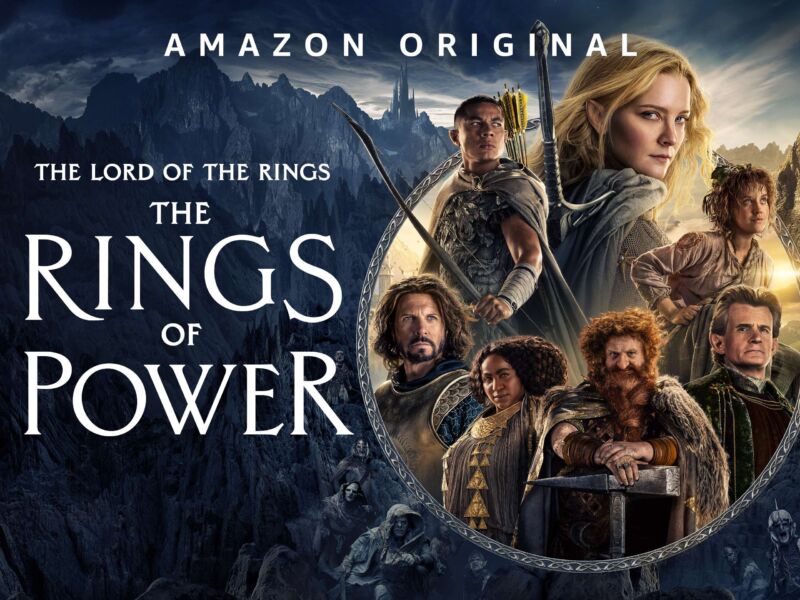 Amazon yesterday sued the alleged operators of websites that sell pirated DVD copies of The Lord of the Rings: The Rings of Power and other Amazon-made streaming series that haven't been officially released on discs. People who bought the show on DVD ended up receiving low-quality pirated copies, Amazon said.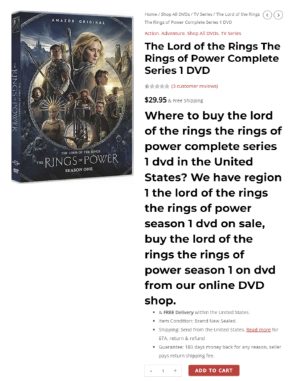 The lawsuit filed in US District Court for the Central District of California named the China-based individual Yangchun Zhang as a defendant. Other defendants include DVDShelf and Media Wholesale UK, which are referred to as "unknown business entities," and seven websites connected to the DVD sales.
"Defendants openly sell pirated and infringing DVDs containing unauthorized copies of the Amazon Series," the lawsuit said. "To date, Amazon has not released for sale or distribution the Amazon Series on DVD, and instead exclusively distributes such content via… Amazon Prime Video. In addition to illegally reproducing and distributing Amazon's copyrighted content, Defendants' scheme infringes numerous other aspects of Amazon's intellectual property, including the use of Amazon's registered trademarks and artwork on their pirated DVDs."
Pirated versions were sold on dvd-wholesale.com, bilidvd.com, dvdshelf.com.au, ddddd.com.au, buydvds.com.au, dvds.trade, and dvdwholesale.co.uk, according to Amazon's lawsuit. All seven websites were still active as of today, but listings for The Rings of Power appear to have been removed. A screenshot in the lawsuit showed a DVD set of Rings of Power season 1 being sold for $29.95.
Amazon is seeking financial damages and wants to take over the websites. The lawsuit requests a permanent injunction against the defendants and a court order requiring domain registrars "to transfer these domain names and any additional domain names found to be associated with Defendants' operation of the Piracy Websites to a registrar to be appointed by Plaintiffs to re-register the domain names in Plaintiffs' names."
Amazon also wants a court order requiring PayPal and other financial institutions to "transfer to Plaintiffs all amounts arising from Defendants' unlawful counterfeiting and infringing activities."
Amazon's big-budget Rings of Power series
Amazon reportedly spent a combined $715 million for the Rings of Power first-season budget and rights agreement with the J.R.R. Tolkien estate, apparently making it the most expensive TV show ever. It received generally favorable reviews from critics but extremely low ratings from the audience, according to scores on both Metacritic and RottenTomatoes.
Amazon's lawsuit boasted that Rings of Power "attracted more than 25 million viewers on its first day streaming on Prime Video, breaking all previous records." But the show reportedly had a low completion rate, with just 37 percent of US-based viewers and 45 percent of overseas viewers finishing the season. In addition to The Rings of Power, an Amazon exhibit lists other pirated series, including The Peripheral and The Boys.
Some people who bought the DVDs may have been fooled into thinking they were genuine or simply lacked access to Amazon Prime streaming. But Amazon's lawsuit said buyers ended up with poor-quality copies.
Amazon has a "Counterfeit Crimes Unit" that "conducted multiple test purchases to confirm that the DVDs were pirated and bore infringing Amazon registered trademarks and artwork," Amazon said in a press release. Amazon said it also worked with the Motion Picture Association (MPA) to confirm that the purchased DVDs were pirated versions.
Amazon said the pirated DVDs "jeopardize Amazon's reputation for quality and unsurpassed customer service," and that the "threat is underscored by customer complaints concerning Defendants' DVDs and their poor quality. For instance, a customer left a one-star review of DVD Shelf's website in 2021 stating that despite the company's 'claim[] to only sell genuine products,' the customer found the DVDs were 'of EXTREMELY poor quality' and are 'absolutely pirated copies,' with, among other issues, episodes missing, sync problems, editing issues, and faulty discs."
Another user complained about purchasing two faulty disc sets from DVD Shelf, the lawsuit said. It's not clear whether these customers purchased Rings of Power or something else.
As of November 2022, DVD Wholesale's FAQ section instructed customers to "submit a customer complaint to us before [contacting] FTC [the Federal Trade Commission]" if they experienced problems with the DVDs, according to Amazon's lawsuit.
Pirate-DVD sellers "target US companies and their IP"
Amazon said its test purchases covered more than 20 works whose copyrights were infringed by the defendants. The websites also offer DVD copies of many non-Amazon series.
"Defendants' Piracy Websites target US companies and their IP, as the vast majority of film and television series that are offered for purchase on the websites are titles for an American audience offered by studios based in the US," Amazon's lawsuit said.
The Lord of the Rings: The Rings of Power
Zhang owns a trademark registration for DVD Shelf in Australia, according to Amazon. Amazon said registration information shows that six of the seven pirate websites were "clearly affiliated with Defendant DVD Shelf or Defendant Zhang."
Amazon's lawsuit includes claims for copyright infringement, trademark counterfeiting and trademark infringement, false designation of origin, and false advertising.
"By selling pirated DVDs that infringe every aspect of Amazon's IP, from the Amazon Copyrights to the Amazon Trademarks, Defendants illegally and unfairly compete with Amazon, divert sales and subscriptions from Prime Video, and usurp Amazon's control over the Amazon Copyrights and Amazon Trademarks," the lawsuit said.