Cadillac reveals the 2025 Escalade IQ, one excessive EV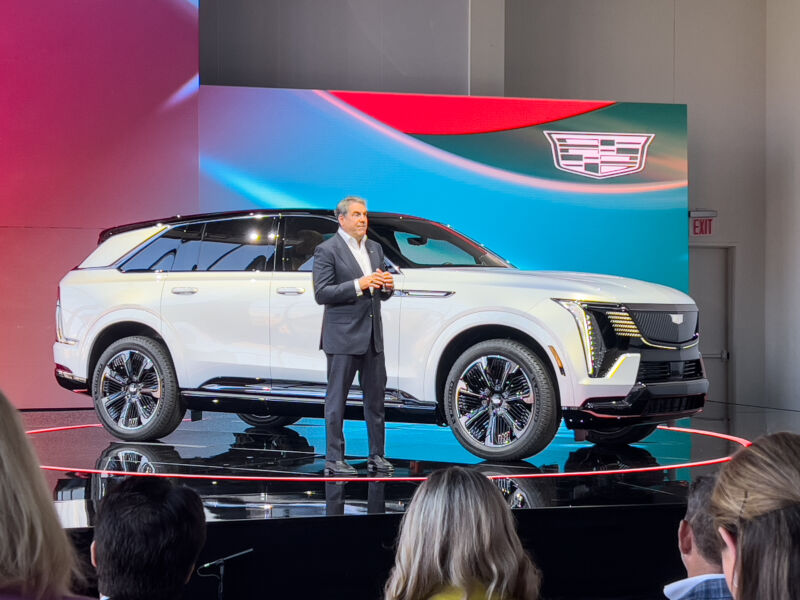 NEW YORK—If you're not a fan of the embiggification of American cars, perhaps look away now. Today in New York, Cadillac took the wraps off its next electric vehicle, and it's a large one—a fully electric version of the Escalade. Called the Escalade IQ, Cadillac has gone all-out, fitting this one with a monster battery that stores enough energy to propel this behemoth 450 miles (724 km) before it needs plugging in.
The Escalade IQ isn't just a big battery and some electric motors shoehorned into the internal combustion version that we tested in 2020. It's a clean-sheet design that uses GM's new Ultium battery platform and, in this case, the company's  architecture shared by the forthcoming Chevrolet Silverado EV, among others.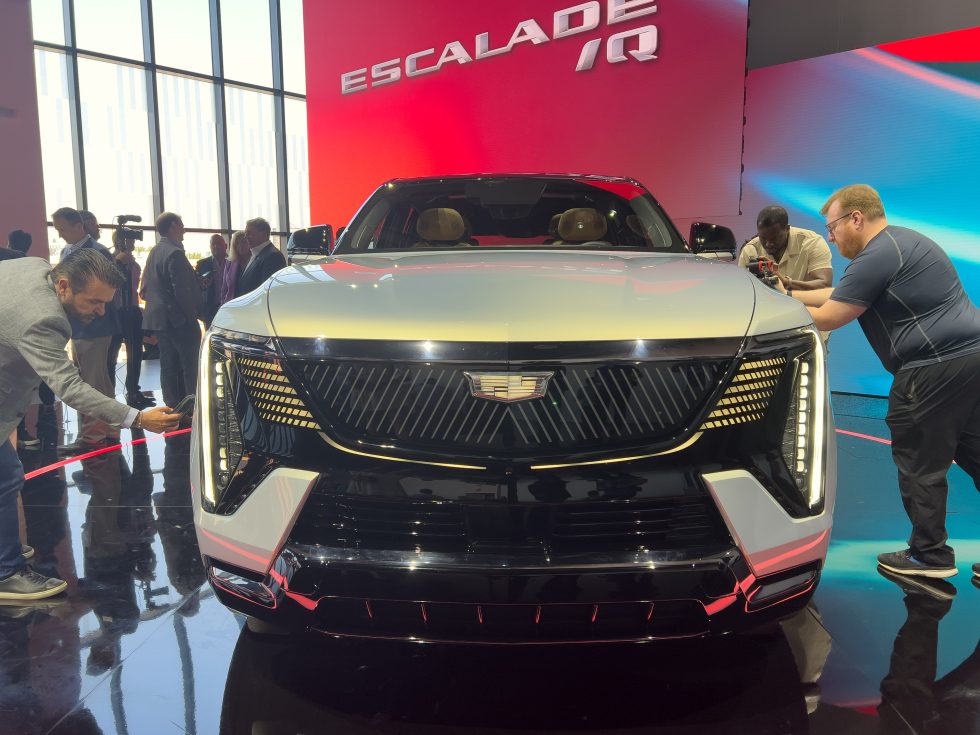 It's an imposing thing, with a high bluff nose, which is so unfortunately on-trend right now, and frankly enormous 24-inch wheels. It's actually even bigger than the gas-powered Escalade, at 224.3 inches (5,697 mm) long, 85.3 inches (2,167 mm) wide, and 76.1 inches (1,934 mm) tall, with a 136.2-inch (3,460 mm) wheelbase.
There's a definite family theme shared with the other Cadillac EVs, the $60,000 Lyriq and the $340,000 Celestiq; like those cars the Escalade IQ—which starts around $130,000—uses lights to create a grille-like appearance at the front without the aero drag, and features a blanked-off D pillar. Cadillac hasn't given us a drag coefficient but says the Escalade IQ creates 15 percent less drag than previous Escalades.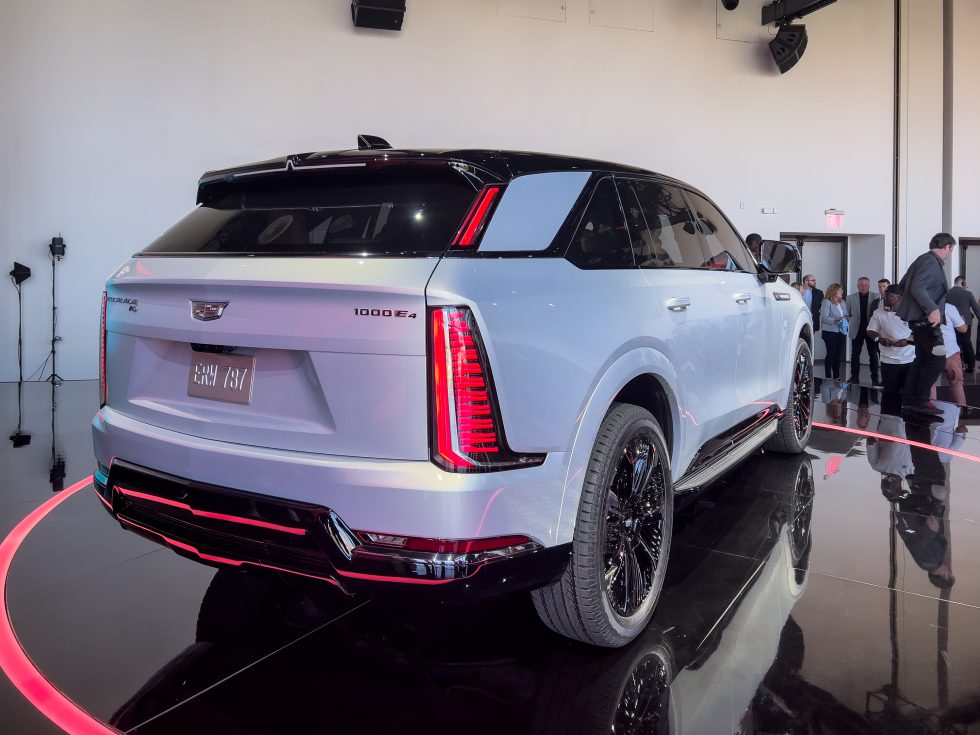 As one might expect, there's an electric motor for each axle. Together, in normal mode, they give the Escalade IQ 680 hp (507 kW) and 615 lb-ft (834 Nm), but a "Velocity Max" mode temporarily updates this to 750 hp (560 kW) and 785 lb-ft (1,064 Nm). Cadillac says in that mode the Escalade IQ will hit 60 mph in five seconds. That's the first clue that this EV will weigh a lot—Cadillac did not disclose a curb weight.
Any doubts we're talking about a very heavy car should be dispelled when you find out the battery pack has a capacity of 200 kWh—the same as the 9,063-lb (4,110 kg) GMC Hummer EV. The pack uses a nickel cobalt manganese aluminum chemistry, and like the Hummer EV it has a party trick where it can fast-charge at 800 V despite running at 400 V.
Cadillac says it will add up to 100 miles (160 km) of range every 10 min on a DC fast charger. To fully charge the battery with an AC supply, you can expect to wait about 12 hours using a 19.2 kW AC charger, or 30 hours if you have to use a 7.7 kW AC charger. And as a model-year 2025 vehicle, the Escalade IQ will feature a NACS charging port, not the CCS1 port currently found on GM EVs, as well as the ability to perform bidirectional charging.
To make the Escalade IQ more nimble, it comes with rear-wheel steering as standard. This can turn up to 10 degrees, turning the opposite direction at low speeds (to reduce the turning circle by more than 6 feet) or with the front wheels at highway speed for greater stability. Cadillac says it can move diagonally out of parking spaces, similar to the Hummer EV's crabwalk ability.
The huge screen dominates the Escalade IQ interior.


Cadillac

There's a frunk with a capacity of 12.2 cubic feet (345 L).


Cadillac
Ride comfort was an important consideration in the Escalade IQ's design—this is meant to be a luxury EV. Air suspension and magnetorheological dampers handle those duties. And the electric SUV is configurable with two or three rows of seats. Opt for three rows and the third row is powered and can fold flat to increase luggage capacity. For a more luxurious approach for fewer passengers, the Escalade IQ can be specced with a second row that features reclining seats and fold-out tray tables.
Perhaps unsurprisingly, Ars never really gelled with the V8 Escalade, but we did appreciate some of the driver-assist technology that Cadillac packed into that SUV. The Escalade IQ makes that car look almost antiquated by comparison.
Executive second row seats bring a touch of business class airplane to the Escalade IQ.


Cadillac

Yes, the Escalade IQ has night vision.


Cadillac
The bit you can't see is GM's newest Ultifi electronic architecture that gives this EV plenty of bandwidth to power the bit you can see—a 55-inch display that stretches from A pillar to A pillar. Qualcomm provides the Snapdragon Cockpit Platform that powers the big touchscreen. There's no Apple CarPlay or Android Auto, but the infotainment system uses Android Automotive OS and includes Google Maps, Google Assistant, and the Play Store.
The Escalade IQ goes into series production next summer at GM's Detroit-Hamtramck Assembly Center in Michigan.