How to Increase Output and Innovation by Hiring Freelance Designers
Imagine a scenario in which your company must rapidly redesign its mobile app to incorporate AI features like image recognition, customer service chatbots, and home screens tailored to user preferences. However, your budget is tight, and your in-house designer hasn't worked with AI features. Training will be expensive and time-consuming, and will distract your designer from their core duties.
Given your timeline and limited budget, you decide to hire a freelance designer who specializes in AI and has extensive experience implementing the features you need. When the freelancer joins your team, they apply learnings from previous projects and quickly deliver a research-informed prototype. After a brief process of testing and iteration, the new features go live, and the project concludes on schedule and under budget. This isn't a dream—I've seen scenarios like this play out for 15 years as a freelance UI/UX designer, during which I've partnered with diverse clients such as Royal Bank of Canada, Xello, and Rocket Homes Real Estate. I've also been part of multiple time-sensitive, cash-strapped projects requiring specialized skills and insights. It's always inspiring and gratifying when my work positively influences my clients' products and their in-house designers.
As more highly skilled workers turn to freelancing, business leaders are seeing that productivity and creativity increase when they work with independent talent. Let's examine three of the biggest benefits that freelance designers can bring to your company.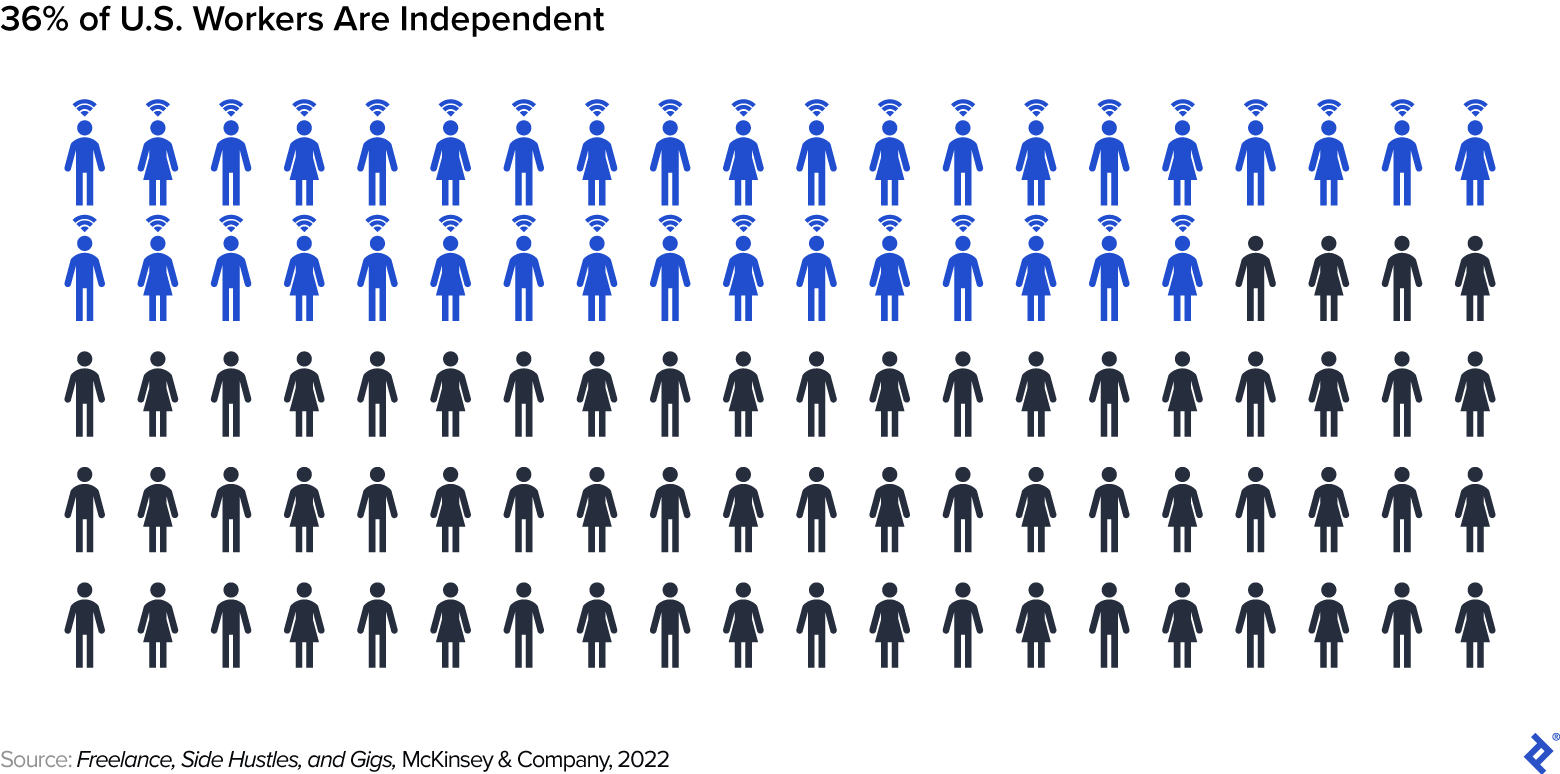 1. Access to Emerging and Specialized Skills
Freelance designers tend to work on numerous projects and often acquire new skills to address their clients' ultra specific design problems. Stewart Pressney, Toptal's Design Matching Team Lead, says that access to specialized skills is one of the main benefits of hiring freelance designers. According to Pressney, independent experts are especially effective when companies bring them on for different stages of the design process. "You can have someone who's great at ideating and coming up with concepts pass their ideas off to someone who's good at implementing and creating pixel-perfect designs," he says.
Freelancers are also an excellent choice for exploring cutting-edge trends and technology. For instance, you might hire a freelance illustrator who specializes in 3D modeling and rendering to create images that make your digital content more compelling and easier to understand. Or you could engage a freelance UX designer to add AR/VR features to your e-commerce app.
Consider generative AI agents like OpenAI's ChatGPT: These technologies have immense potential to transform digital products and services for the better, but if you're at a startup or small company, you may struggle to attract design talent with AI skills. In such cases, independent talent would be a terrific way to fill the skills gap and reap the speed, efficiency, and customization AI affords.

2. Increased Innovation and Creativity
For companies of any size, diverse perspectives are essential in finding effective solutions. As Toptal product designer Eric Müller Moreno says, outsiders have "more freedom and openness to talk about harsh truths," adding that independent specialists can uncover organizational inefficiencies that may have hindered previous design efforts. Having consulted on product development and design strategy for Universal Music Group, Deloitte, and the United Nations, he has the rare perspective of an industry veteran who has partnered with organizations of all sizes.
For instance, Moreno was hired by a subsidiary of a prominent media brand to refine the live beta of its robo-investment app for purchasing stocks and ETFs. The app charges users based on the investment kits they choose. When Moreno came to the project, there was an MVP and a small user community, but the screen organization was clumsy, and the app offered limited choices for investing. Most of all, it didn't reflect the maturity and distinction of the parent brand.
In some ways, the solution was hidden in plain view. "What I decided to do was, literally, just follow the [parent company's] brand guide," Moreno says. "There was good work done. It was pretty concise … we just needed to elevate it."
To do that, the team developed subscription-based investment kits. Users could pick from several investment strategies, spread their investments across sectors and fund types, and decide what percentage of their portfolio they wanted allocated to each. The app's algorithms then monitored and managed the portfolio, leveraging an AI agent to ensure diversification and protection against downside risks.
The project began as a cosmetic intervention, but Moreno's insight into the subscription models of SaaS products outside the fintech sector elevated it to a new level. His wide-ranging design experiences informed new features, including thematic trading options, an investment dashboard, financial goal setting, and an improved onboarding flow. And, the decision to bring greater transparency to the payment model contributed to a 144% increase in revenue per user, a 275% increase in assets under management growth, and a 40% increase in overall product growth.
3. Cost Savings
One reason companies might hesitate to hire freelance designers is perceived cost. At face value, an independent talent's hourly rate appears higher than an employee's. But companies hiring freelancers don't have to pay for 401(k) plans, health and disability insurance, parental and medical leave, stock options, or performance bonuses. Additionally, most freelance designers work remotely on a per-project basis, meaning companies can theoretically also save money by using smaller offices and not paying underutilized full-time employees during lulls in the product development process.
Businesses can also hire independent specialists to fill short-term roles that are typically performed by high-earning employees. For example, Jake Kahana, a Toptal brand designer, recently partnered with a real estate agency on an app design project that needed to be completed quickly. The agency lacked the funds for a full-time creative director, but Kahana gave the company the strategic leadership perspective it needed at a rate that worked for its budget. Overseeing a team of junior designers, he directed a fast-tracked effort to get the app up and running while building trust among the agency's clients that the design vision was grounded in business goals. Kahana entered the role with vetted expertise and efficiently delivered a solution the agency wouldn't have been able to afford otherwise.
Choose the Right Freelance Designer for Your Next Project
Whether you need a graphic designer, UX researcher, or AI specialist, the benefits of hiring freelance designers are clear: Businesses that do so are able to leverage the nuanced skills of design professionals who bring fresh perspectives to projects—while keeping costs in check. The designers, meanwhile, get to be more intentional in forging their career paths, gaining access to diverse and meaningful opportunities that can accelerate their professional growth. It's a win-win situation.
"As an independent designer, you get opportunities to see different companies, different organizations, and different ways of doing things. You're able to be reactive in a way an in-house person might not be. Professionally, I've had access to projects I never imagined I would have had," Moreno says, pointing to his recent work on an AI-powered database for the United Nations. "When you do something like that, it really gives you a sense of purpose."