No regrets: Gender-affirming chest surgery in adults has long-term satisfaction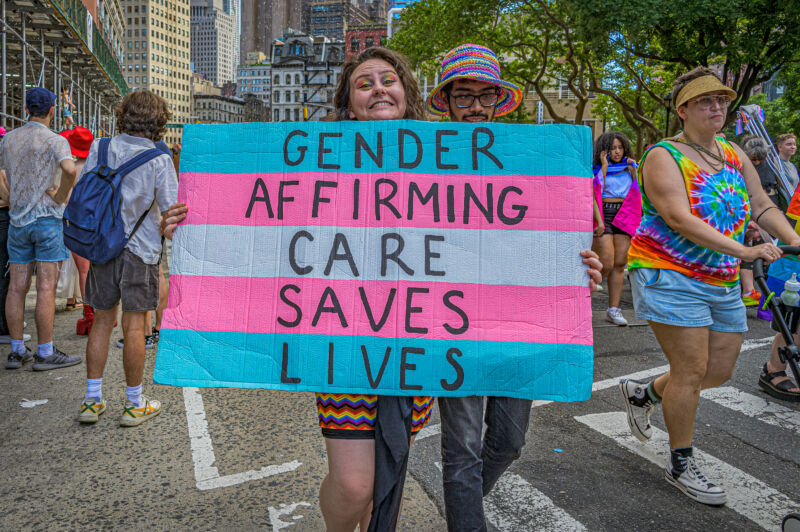 People who underwent gender-affirming chest reconstruction surgeries as adults have virtually no regrets years later and overwhelmingly high levels of satisfaction with their decision to have the procedure, according to a study published Wednesday in JAMA Surgery.
The results were so clear, in fact, that the study authors were unable to perform the complex statistical analyses they had planned due to the striking uniformity in the survey responses.
Overall, this study on adults adds to a limited, but growing body of data suggesting that gender-affirming care is "essential" and potentially lifesaving care that comes with significant benefits for people who are transgender and gender diverse. Collectively, this is why major medical organizations—including the American Medical Association, the American Academy of Pediatrics, the American Psychological Association, and the Endocrine Society—advocate for protecting access to evidence-based gender-affirming care, which is a broad, sometimes misconstrued, term.
To American medical experts, gender-affirming care is not a set protocol or step-wise plan, but a flexible approach to tailored, patient-led care that can include treatments—such as counseling, hormone replacement therapy, and surgical procedures—that aim to support and foster the autonomy of each individual.
Recently, gender-affirming care has drawn significant scrutiny, particularly care for youth. This month, the American Academy of Pediatrics (AAP) called for a systemic review of evidence to develop updated guidance for pediatricians, a move it said "reflects the [AAP] board's concerns about restrictions to access to health care with bans on gender-affirming care in more than 20 states." There have also been restrictions and calls for more research in some European countries, including Norway, Finland, Sweden, and England. In the meantime, while researchers collect more data, the AAP reaffirmed its support of gender-affirming care and highlighted that it "opposes any laws or regulations that discriminate against transgender and gender-diverse individuals, or that interfere in the doctor-patient relationship."
For the experts involved in those relationships, the benefits appear clear in their clinics and medical offices. But definitive data has been difficult to amass so far, owing to the limited research and the small patient population. Even now, amid rising awareness and support of transgender and gender-diverse identities, only a sliver of the US population—an estimated 1.6 percent of adults—identify as transgender or nonbinary. As such, many studies to date have involved small sample sizes, have lacked validated instruments to assess condition-specific outcomes, and have had short follow-up times.
Longer-term outcomes
The new study in JAMA Surgery aimed to address some of those limitations. It used validated survey tools to assess both decision regret and satisfaction, and it looked at decision outcomes at least two years but up to 23 years after individuals underwent chest masculinization surgery. The study's sample size was still small, though, with a total of 235 eligible patients identified.
The study was led by Megan Lane, a surgeon at the University of Michigan who specializes in gender-affirming procedures. Lane and her colleagues tapped into medical records of patients at the University of Michigan, which they noted is the oldest continually operating gender-affirming surgical unit at a US academic center and to which patients from other care providers are referred. The researchers looked for patients who underwent chest masculinization surgeries between 1990 and 2020.
Lane and her co-authors reached out to the 235 eligible patients to have them take a survey of their outcomes. Of the 235, 139 responded to the survey, though the researchers still had some medical information about 96 non-responders based on their records.
Of the 235 patients, none requested or underwent a reversal treatment, and about a quarter of responders and non-responders went on to have additional gender-affirming procedures after their chest reconstruction surgeries. Their ages at the time of the procedure ranged from 23 to 33, with the median age of the responders being 27.1 and 26.4 for the non-responders.
The responding 139 patients rated their satisfaction with the procedure using a "revised Holmes-Rovner Satisfaction With Decision" scale, an established tool that involves rating four statements on a five-point Likert scale, with a score of five indicating the most satisfied. The median score from the respondents was five (mean 4.8 out of a possible 5).
They also rated regret with the established "Decision Regret Scale," which involves rating five items on a five-point Likert scale, with the total then getting converted to a 100-point score. In that final scale, the lower the score, the lower the regret, with 100 being maximum regret. The respondents' median score was 0 (mean 4.2 out of a possible 100).