Real-time Ubuntu is now available in AWS Marketplace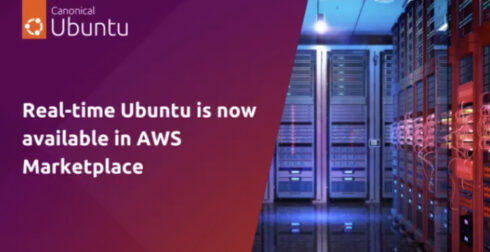 Austin, TX, 12 September 2023: Canonical is thrilled to announce the listing of Ubuntu Pro 22.04 LTS with real-time kernel in  AWS Marketplace, a digital catalog with thousands of software listings from independent software vendors that make it easy to find, test, buy, and deploy software that runs on Amazon Web Services (AWS).
Canonical is an Advanced Tier Services Partner in the AWS Partner Network (APN), the highest tier for Independent Software Vendors (ISVs). With a relationship spanning over a decade, we work together to make sure AWS customers can deploy Ubuntu on AWS. Canonical provides over 40 types of server images on AWS covering key AWS services like Amazon Elastic Compute Cloud (Amazon EC2), AWS Graviton, AWS Outposts, and Amazon Elastic Kubernetes Service (Amazon EKS). Beyond the server, Canonical provides mobile development capabilities through Anbox Cloud Appliance in AWS Marketplace, and Ubuntu Desktop availability on Amazon WorkSpaces and Amazon AppStream 2.0.  Whether customers innovate on mobile, desktop, or server-based workloads, Canonical ensures that AWS customers can choose enterprise-ready, supported, and secure open source solutions.
With Real-time Ubuntu in AWS Marketplace, Canonical is innovating at the edge for AWS workloads. After Canonical launched Real-time Ubuntu in February this year, customers immediately began demanding a cloud option to solve the challenge of rapid prototyping.  By launching first in AWS Marketplace, AWS is currently the only cloud-based procurement option for Real-time Ubuntu today. Enterprises in sectors like automotive, industrial, and telecom can now unlock real-time compute and reduce development time by validating their code in a cloud environment.
Furthermore, critical and high-security kernel CVE patches for the real-time kernel are enabled by default on Ubuntu Pro and automatically applied at run-time. Canonical publishes updated images daily, ensuring security is built-in from the moment an instance launches. With ten years of maintenance for the time-bound workloads of modern enterprises, Real-time Ubuntu in AWS Marketplace is perfect for development in a digital-twin environment.
From rapid prototyping to seamless deployment
"Canonical's Real-time Ubuntu marks a significant advancement in the domain of software-defined vehicles, facilitating rapid development and seamless deployment," said Edoardo Barbieri, Product Manager at Canonical.  "With the listing in AWS Marketplace, OEMs and Tier 1 suppliers can now structure their software-defined vehicle strategies based on reliable and secure open-source solutions on the clouds."
"Accessing Ubuntu Real Time Kernel on AWS can help further cloud and vehicle edge parity in automotive development," said Stefano Marzani, Worldwide Technical Lead, Software-Defined Vehicles at AWS. "By working with Canonical, and providing access to real-time Ubuntu in the cloud, AWS is helping to empower developers to start implementing systems requiring deterministic behavior, like automotive and industrial workloads, ahead of hardware availability and in parallel with hardware provisioning."
Developing in the cloud enables the shift toward environmental parity, addressing the challenges caused by limited hardware resources and supply chain disruptions due to microchip shortages.
"We were looking for a solution for our software developers to be able to implement and test vehicle software in a cloud environment, clearing the need for physical hardware on benches. In particular during the early stages of development when the physical hardware is so expensive and scarce. The availability of Real-time Ubuntu in AWS Marketplace is covering exactly that need," said Shankara Narayanan, Senior Practice Leader, Software Defined Vehicles at Tata Technologies. "I look forward to our teams improving the way of building the next software-defined vehicles thanks to Real-time Ubuntu on AWS."
"We have been using Real-time Ubuntu since the beta was released. With everything working as expected while meeting our stringent latency requirements from day one, we are excited about the Real-time Ubuntu listing in AWS Marketplace. As a smart mobility solution company, we experience the challenge of consistent software maintenance via upgrades and security vulnerability patching. Leveraging Real-time Ubuntu and Canonical's proven open-source expertise allows us to focus on next-generation application development and meeting consumer needs while keeping costs within boundaries," said Mr Anthony Wong, Co-Founder and CTO at MooVita.
Real-time Ubuntu – how it works
Real-time Ubuntu 22.04 LTS integrates the PREEMPT_RT patches from the upstream project maintained by the Linux Foundation, ensuring our real-time capabilities align with the latest developments in the ecosystem.
PREEMPT_RT implements a priority scheduler and other supporting real-time mechanisms. Preemption involves temporarily interrupting the current thread of execution to process a higher-priority event. By integrating the PREEMPT_RT patches, Real-time Ubuntu is thus more preemptive than mainline Linux. Increasing the amount of preemptible code within the Linux kernel significantly enhances the system's ability to provide a deterministic response time to external events. It effectively reduces kernel latencies to meet the demands of even the most rigorous workloads, ensuring predictable task execution.
A consistent and secure experience
With the listing of Real-time Ubuntu in AWS Marketplace, Canonical helps to ensure a consistent experience across platforms, from edge computing to multi-cloud environments, and the uniformity of your CI/CD pipelines.
Furthermore, Canonical ensures security remains a top priority by publishing updated images daily, so that every instance launched is secure right from the start. Critical and high-security kernel CVE patches are automatically applied at runtime, eliminating the need for an immediate reboot. Developers and DevOps professionals can safely rely on Real-time Ubuntu when running their code in the cloud, thanks to its reliable stream of security updates. Canonical's commitment to enterprise-grade support and long-term maintenance ensures the longevity of the real-time kernel in AWS Marketplace. In turn, this enables organizations to focus on their core business drivers and reduce time-to-market.