Requiring ink to scan a document—yet another insult from the printer industry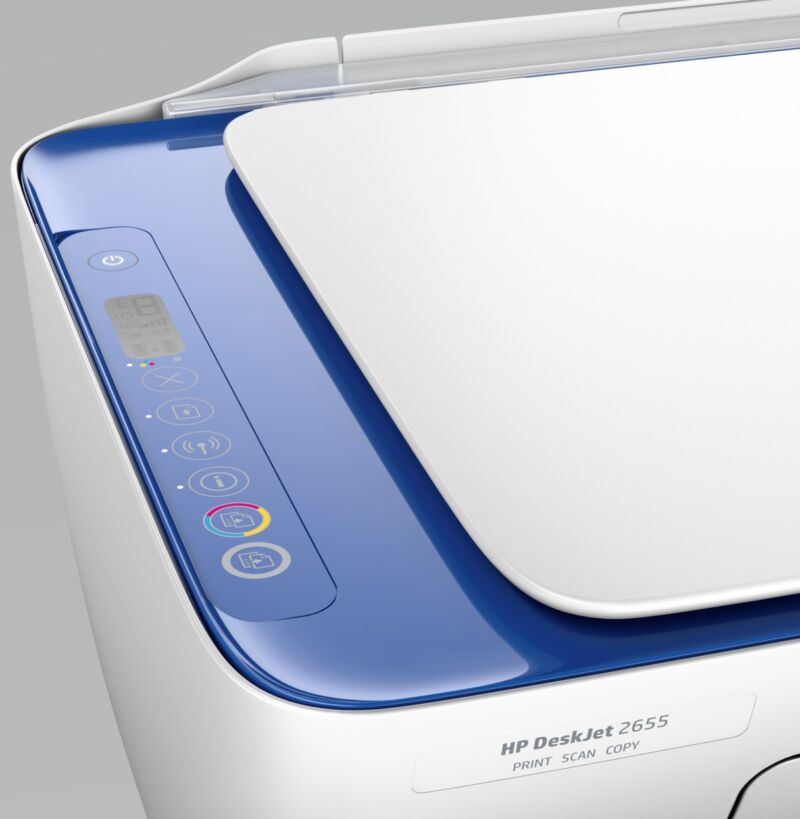 How much ink does an all-in-one printer need in order to fax a document? Or to scan one to your computer? The obvious answer is "none." But if you own certain printers from companies like HP and Canon, you won't be able to use core features unless the device has ink—even if those features have nothing to do with ink. 
Unfortunately, all-in-one printers arbitrarily demanding ink to perform non-printing functions isn't a new frustration. And that's despite some companies having printers that can scan without ink. Clearly, scanning or faxing without requiring an ink cartridge would improve users' experience—and they've illustrated that through class-action lawsuits. But this hasn't stopped printer makers from fighting to keep the nettlesome practice.
No ink, no scan
Since mid-2022, HP has been fighting a class-action lawsuit alleging that certain all-in-one printer models won't scan or fax without ink and that HP doesn't properly disclose this to shoppers. On January 13, 2023, the complaint was dismissed but allowed to be amended (you can view the amended complaint here: [PDF]), and on August 10, a Northern District of California judge dismissed HP's motion to dismiss the amended complaint [PDF].
HP Envy 6455e and HP Deskjet 2655 purchasers Gary Freund and Wayne McMath filed the complaint, which states that HP printers are designed to enter an error state when low or out of ink, preventing usage until the installment of a new ink cartridge. The plaintiffs are also peeved that HP marketing and advertising doesn't clearly disclose this, the complaint says. The complaint also notes that an HP support agent has said that HP printers are "designed in such a way that with the empty cartridge or without the cartridge the printer will not function."
"HP's All-in-One Printers do not work as advertised. Ink is not a necessary component to scan or to fax a document," the complaint reads.
It adds:
Tying the scan or fax capabilities of the All-In-One Printers to ink contained in the devices offers no benefit and only serves to disadvantage and harm consumers financially. However, tying the scan or fax capabilities of the All-In-One Printers to ink contained in the devices does, however [sic], serve to benefit HP.
Anyone who's owned an inkjet printer knows how expensive ink can be. That suggests a reason to push people to buy ink through tactics like blocking core features if no ink is present and reportedly selling printers below cost. Ink-buying programs have also become cash cows. HP in 2021, for example, said its Instant Ink subscription business was worth $500 million, per CRN. In its Q2 2023 financial report, HP named Instant Ink a key growth area.
The complaint against HP says:
Indeed, HP designs its All-in-One printer products so they will not work without ink. Yet, HP does not disclose this fact to consumers. … Even were it technically possible to scan a document without all ink cartridges present, HP does not disclose any 'workaround'  to consumers in any of the product packaging nor in any of HP's advertising and marketing materials regarding its multi-function devices.
The complaint seeks monetary damages as well as the end of HP's "misleading advertising and marketing campaign" and for HP to "engage in a corrective campaign to inform consumers of the misleading advertising."
Here are all the HP printer models listed in the complaint:
HP Deskjet 2755e
HP DeskJet 3755
HP DeskJet 4155e
HP ENVY 6055e
HP ENVY 6075
HP ENVY 6455
HP ENVY Pro 6475
HP OfficeJet 250 Mobile
HP OfficeJet Pro 7740 Wide Format
HP OfficeJet Pro 8025
HP DeskJet 2622
HP DeskJet 2655
HP declined to comment on this story.