Slack AI, Slack Lists, and new automation capabilities released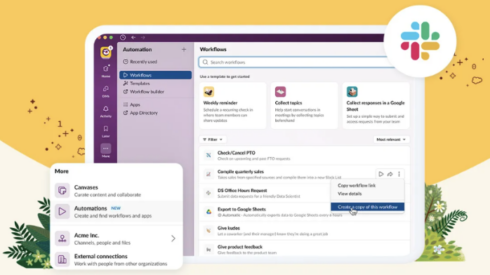 Salesforce has introduced new features in Slack that incorporate advanced AI, automation, and knowledge-sharing capabilities into its productivity platform. 
Slack AI is built natively into Slack on its trusted foundation, grounded in a company's collective knowledge found in Slack, and easy to access in the flow of work.
Using AI, channel recaps in Slack provide quick summaries of important information from any channel. These recaps not only help users focus on the most crucial details but also save time by allowing them to create status reports and extract key themes from different channels.
Thread summaries in Slack allow users to efficiently catch up on lengthy discussions within a thread with just one click. This feature is particularly useful when teams are actively involved in incident resolution, decision-making, or idea brainstorming, as it streamlines the process of staying informed.
Also, "Search answers" in Slack assists customers in leveraging their conversational data and the context it provides from the collective expertise and experiences within the organization. Users can ask questions, and the search feature not only provides results containing relevant messages, files, and channels but also includes an AI-generated summary to enhance understanding.
Slack has also added automation capabilities to empower anyone to automate without code using a new and improved Workflow Builder that offers connectors from companies like Google Workspace, Atlassian, and Asana. Users can also build and deploy custom apps, hosted in Slack, and Slack will take care of the hosting, eliminating infrastructure overhead and ensuring data is stored securely in Slack.
With Slack lists, customers can manage, track, and triage work while in the flow of communication by tracking projects, managing launches, and reviewing approvals and requests. 
"At Slack, we're taking a collaboration-first approach to delivering an intelligent productivity platform in the age of AI and automation," said Noah Desai Weiss, chief product officer of Slack. "We are focused on providing customers with a simpler, more delightful, and more efficient set of tools so every person can do the best work of their lives."