Sonos has been unable to fix Arc soundbars' "pop of death" for over 2 years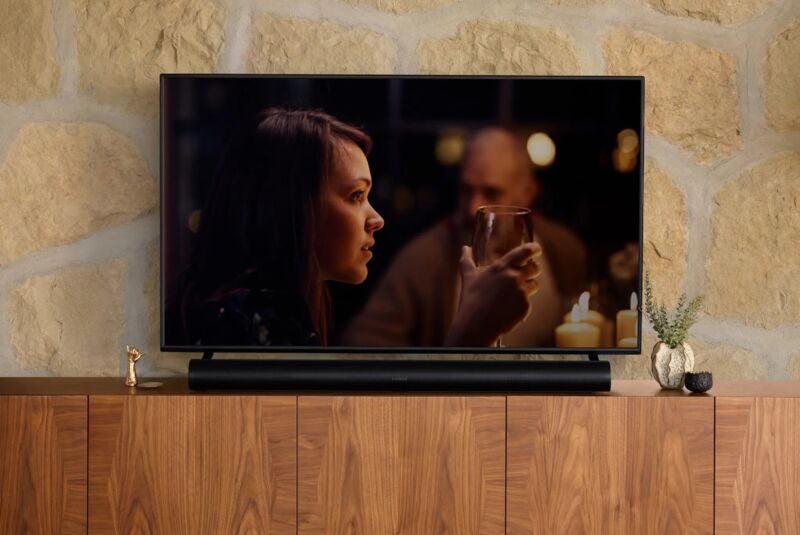 A loud popping noise that sounds like a bang or gunshot and then no audio at all has been the experience for numerous owners of the $900 Sonos Arc soundbar. But don't worry: Sonos is working on re-creating the problem—and has been doing so for over two years.
That's right. As an Ars reader helpfully pointed out, users have been openly complaining about their Arc startling them with a "gunshot-esque" or popping/cracking sound and then dropping audio until being power-cycled for years. If you don't believe me, check out this thread on Sonos' community forum that goes back two years and has 980 replies. There's also this 2-year-old thread, another thread that's a year old, and some more recent ones. There are piles of discussions on Reddit, too (here are just some examples: one, two, three, four).
The tales sound rather disturbing. One user on Sonos' forum, going by William_61, described the Arc's sudden sound as much more of a blare than a pop.
"Pop is an understatement. We tested again last week and BANG is a much more appropriate word for what happens," they wrote.
Another user, going by Schlagdog, detailed their ordeal:
I can't believe after 2 years Sonos still hasn't fixed this. … I was watching an [Atmos movie] and literally 10 seconds into it the loud POP OF DEATH and [Arc] is done. … The [Arc] to me is pretty disappointing to say the least and the lack on someone that actually works at Sonos to have a real answers is embarrassing.
Ars Technica reached out to Sonos about the problem, and a spokesperson said:
We are aware that a small percentage of customers have experienced an interoperability issue which is causing a popping sound on Arc. What we know now is that this issue occurs on some Dolby Atmos enabled audio products, including Arc, when connected to certain combinations of streaming devices and TVs while playing Dolby Atmos content.
Sonos didn't specify whether or not any other Sonos products were affected.
The company's rep also said Sonos is looking for the "root cause" of the problem and testing for a "reliable reproduction of what customers are describing online and in conversations with our support team."
The Santa Barbara, California-headquartered company's spokesperson added:
We are also engaging our contacts at third party manufacturers to further explore possible solutions. As this is an issue stemming from the way various devices are working together, there are a range of tests our team needs to conduct to understand the scope and develop a targeted solution for each setup. We'll let you know as soon as we have an update to share.
But if I'm anything like Sonos' customers, it can be years before I understand what's wrong with the Arc.
A Sonos employee on Reddit (I asked Sonos to confirm the user's real name but didn't hear back in time for publication) has previously attempted to provide insight into the problem but hasn't clarified what's causing the problem.
"Officially, our guidance is to disable CEC on HDMI connected devices, then reboot these devices as well as the TV. If the issue persists, disable Dolby Atmos and use Dolby Digital 5.1 instead," they said last month.
"Personally, I've seen a few folks in the Sonos Community … use things like an HDMI switch or something like an HDFury Arcana to mitigate the issue for now. But I wouldn't expect Sonos to give that as official advice."
That's not much comfort for people who bought Arc for Atmos support, want to have full functionality of their $900 soundbar, and don't want to be forced to use multiple remotes in their home theater.
But based on what Sonos' PR rep told me, there's no clear time frame for when there will be any solution.
As noted by the Sonos employee on Reddit:
[To be honest], it certainly doesn't feel good offering that as a 'solution' either. And I think I speak for the team on that.

I hesitate to say a 'fix' is in the works. Only because I don't want anyone to get tied to the idea that something is coming 'soon.' The team has been and is actively working towards a solution, the biggest issue we have is reproducing the loud pop. We can find reports of the issue but getting the issue to happen repeatedly and in our own labs has proven to be difficult. But there is movement on it though!
Movement is a relative term, however. It's apparently taking Sonos years to re-create a problem that Arc users have found common enough to dub "infamous."
Sonos hasn't made swift moves to alert shoppers and users of a reported problem with its product. As of this writing, the device isn't discounted from its 2020 launching price; in fact, the Arc costs $100 more than it did upon release.
Sonos didn't answer my question about offering customers refunds. But Sonos generally has a 45-day return policy, and its products have a one-year warranty in the US.