W3C releases new guidelines for web sustainability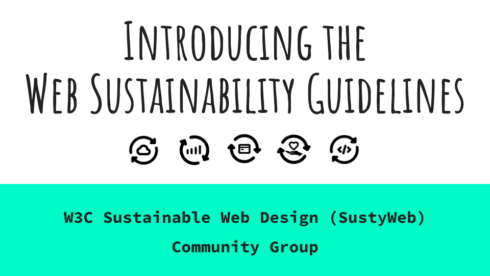 The Sustainable Web Design Community Group of W3C has released a draft Community Group Report on Sustainable Web Design. The Web Sustainability Guidelines (WSG) 1.0 offer best practices for designing digital products and services with a focus on environmental and user considerations. 
These guidelines are based on evidence-based research and target various stakeholders, including end-users, web developers, and policymakers. 
They align with the Sustainable Web Manifesto and GRI Standards, aiding organizations in integrating digital products into sustainability reporting. Given that the digital industry contributes significantly to global emissions, W3C says the guidelines aim to reduce the environmental impact of web development and design by recommending practices like data minimization, image optimization, and the use of green hosting.
In the WSG there are 93 guidelines and 232 success criteria, closely modeled after the structure of WCAG, which is the Web Content Accessibility Guidelines, another standard released by the organization. Each guideline is well-documented with supporting evidence, real-world examples, details about its impact, implementation effort required, and the benefits it brings. The WSG is organized into four main categories: User Experience Design, Web Development, Hosting, Infrastructure, and Systems, and Business Strategy and Product Management. For a quick overview, there is a summary called "WSG At a Glance."
The creators of WSG encourage active participation and feedback from the community. They invite individuals to raise any issues they encounter through the GitHub repository issues and to become a part of their community group.